Grundlagen thermischer Simulationen
Use Case Definition
In diesem Use Case definiert eine minimale gemeinsame Grundlage für thermische Simulationen. Die Anforderungen an architektonische BIM Modelle sind abhängig von der gewählten Simulationssoftware. 
Die meisten Simulationswerkzeuge Unterstützen entweder Ifc und/oder gbXML als Importformat. Wenn die hier definierten Anforderungen für das IFC eingehalten werden, sollte das BIM-Tool auch einen gbXML Export machen können.
Die IFC Datenstruktur aus IfcProject, IfcSite, IfcBuilding, IfcStorey (Projekt, Grundstück, Gebäude, Geschoss) muss eingehalten sein.
Die Geometrie sollte immer auf die wesentlichen Bauteile wie Wände, Decken, Dächer, Fenster und Türen reduziert und richtig klassifiziert sein (Wände als IfcWallStandardCase ansonsten als IfcWalls, Fenster als IfcWindow, Decken als IfcSlab mit PredefinedTyp...)
Nicht gerade Wände stellen viele Simulationstools vor Herausforderungen.
Bauteile müssen auf den richtigen Geschossen liegen.
Mehrschichtige Bauteile z.B. Wände sollten auf eine Schicht reduziert werden.
Räume müssen als IfcSpace enthalten sein. Am besten sollten die modellierten. Bruttovolumen (Raum bis Unterkante Rohdecke) enthalten sein. Viele Simulationswerzeuge benötigen 2nd Level Space Boundaries. Dies ist eine Einstellung die beim IFC Export gewählt werden kann.
Es muss zwischen Externen und Internen Räumen differenziert werden. Für Bauteile muss das Attribut "IsExternal" als TRUE/FALSE gesetzt sein. Räume ausserhalb der Hülle des Bauwerkes müssen als IsExternal TRUE gekennzeichnet sein. Ob der Raum Ausserhalb der thermischen Gebäudehülle liegt, wird besser über den Raumnamen/Type verwaltet.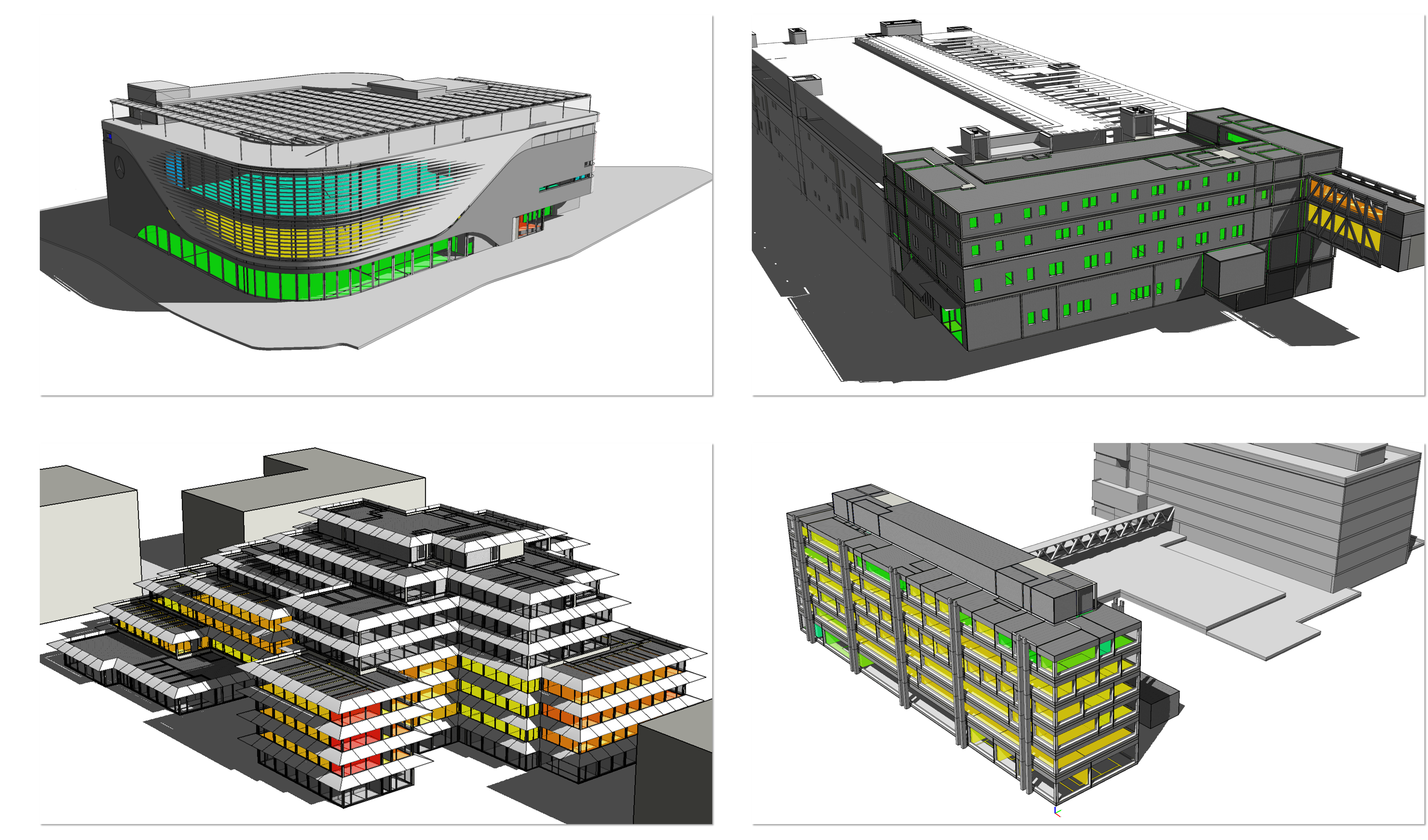 Quelle: Gruner AG
Software, Tools & Services
Prüfsoftware
Handelsübliche eingesetzte Programme:
Simulationssoftware
Handelsübliche eingesetzte Programme:
Urheberrecht
Die Dokumente sind als «Creative Commons Attribution-NonCommercial-ShareAlike 4.0 International Lizenz» als Namensnennung - nichtkommerziell Weitergabe - unter gleichen Bedingungen lizenziert.
Weitere Informationen unter: creativecommons

Handhabung
Die Dokumente entsprechen der aktuellen Best Practice und erheben keinen Anspruch auf Vollständigkeit. Sie sind auch nicht im Sinne einer aus rechtlicher Sicht allgemeingültigen Empfehlung oder Leitlinie zu verstehen, sondern soll Auftraggeber und Auftragnehmer bei der Anwendung der BIM Methode unterstützen. Die Use Cases müssen den jeweiligen spezifischen Projektanforderungen angepasst werden. Die hier aufgeführten Beispiele erheben keinen Anspruch an Vollständigkeit. Informationen beruhen auf Erkenntnissen aus der Praxis und sind dementsprechend als Best Practice und nicht allgemeingültig zu verstehen. Da wir uns in einer Phase befinden, in der Definitionen erst entstehen, kann der Herausgeber keine Gewährleistung für die Richtigkeit einzelner Inhalte übernehmen.
Document Type : Use Case
GUID : 21CD5B40-A58B-4BEF-B4D9-BD7D172F4D76
Identifier : CHE.5314.04
Life Cycle Stage : ISO 22263
Revision : V1.0.0
Project Status : Approved
Maturity level : Example
Use Case: Approved
Processes: Approved
ER: Approved
Published on: May 28, 2023
Last change: May 31, 2023
Publisher: buildingSMART Switzerland
Author: Frey, Manuel | Simon Dilhas
Not registered yet?

Register for the Use Case Management Service for free to access the entire document.

Registered users can use the download area and the comment functions.