Cleaning of glass facades
Use Case Definition
This use case is used to order the AIM basic information for cleaning of glass surfaces, window frames and the shading in the area of the facade. 
In order that the cleaning service on glass facades, windows, window frames and the shading can be planned or tendered, the quantity data (e.g. glass surfaces to be cleaned) and the accessibility in particular are recorded for this purpose. 
When recording the quantity data, it should be noted that not only the layered surface of the window but also the glass surface to be cleaned (both sides of the window or glazed element) must be recorded. In order to take into account, the particularity of facades with two layers of glass (e.g. windows with upstream impact or weather panes). an optional "Glass facade layer_additional" is introduced, which is to be used only if a second facade layer to be cleaned with glass portion is present. To illustrate this connection, the following example is used:
In a high-rise building, a window layer is created with windows that can be opened for cleaning. For fall protection, there is another glass layer with impact panes. On one m2 window area of the first glass facade layer there are thus 2 m2 glass area. Another m2 of window layer of the baffle add another 2 m2 of glass surface to be cleaned, which makes a total of 4 m2 of glass surface to be cleaned on one m2 of facade surface.
Since the shading is partly carried out at the same time as the glass cleaning, the quantity and materialization of the shading is also recorded. and the materialization are also recorded.
The indication of whether the window can be opened for cleaning allows conclusions to be drawn as to whether technical means such as a facade access ramp are required for cleaning. Technical means such as a facade access system or a telescopic lifting platform are required for cleaning.
In order to record the costs of the cleaning service and to charge the respective tenant or user, the glass surfaces are the glass surfaces are recorded in relation to the adjacent room.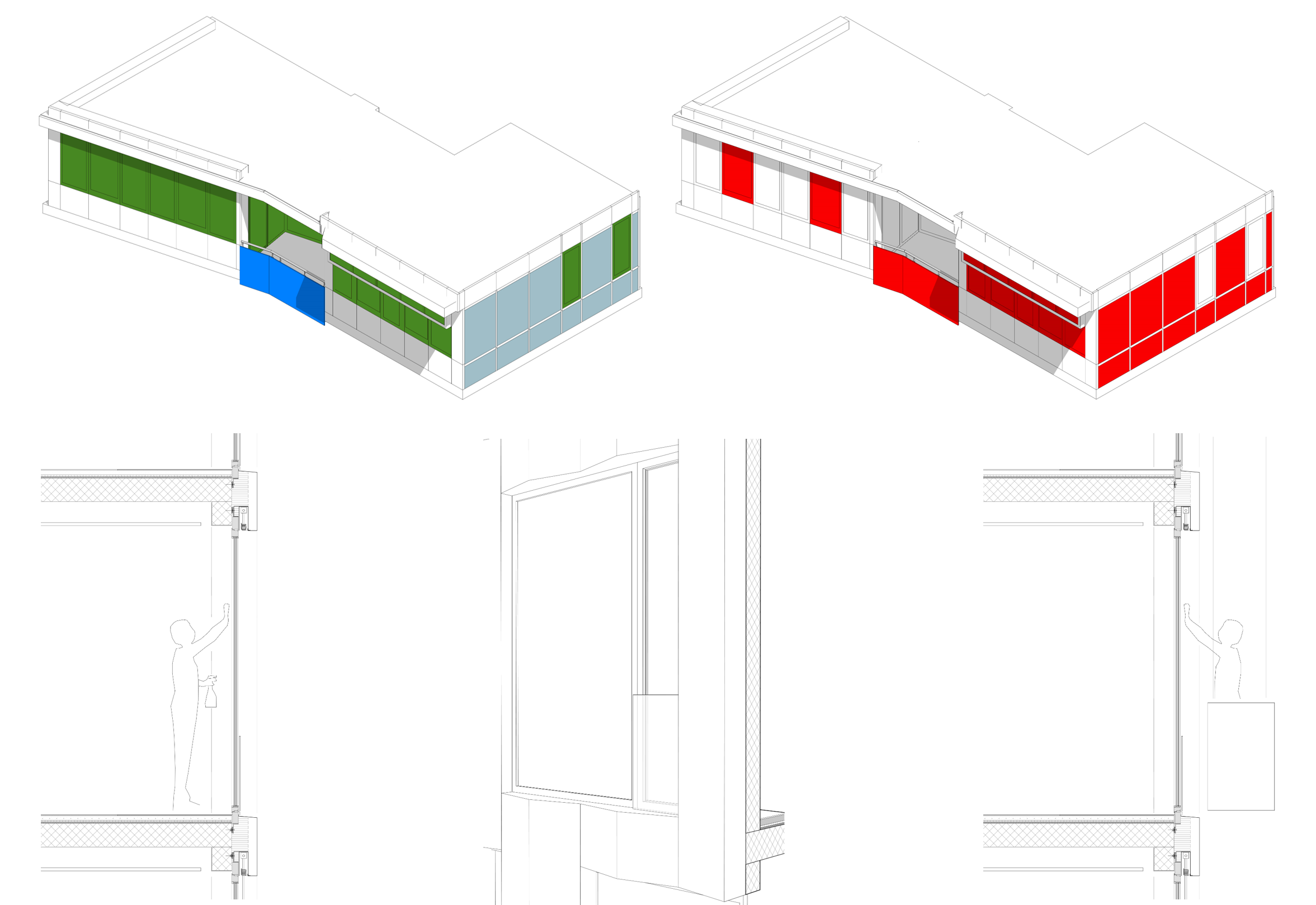 Aim and scope
Model-based provision of information bases for the management organization for the purpose of planning and/or tendering for cleaning services of glass surfaces on facades of high-rise buildings from the construction project
Use uf AIM is enabled
Objectives
Recording of all information required for the planning and tendering of cleaning services on glass facades in the construction project as well as transfer to the management organization, such as glass area in m2, type of facade, etc.
Provision of the basis for the forecast of cleaning costs
Limitations
Defined glass surfaces for cleaning, no optimization of glass surfaces
No optimization of cleaning costs
The evaluation of the glass facade is always related to a room
The recording of the area to be cleaned refers to the adjacent room. This applies both to windows that can be opened and to glass facades that can only be accessed via skyworker / facade access system.
References
Architectural model and facade model if available
Room model with room number, location, reference to adjacent facade element
Quantity extract window area and glazed area with details of opening type, access type, frame type, frame material, window type, manufacturer documentation
Quantity extract window area shaded incl. shading type, manufacturer documentation
Window category with correct IFC Class
Abbreviation
Asset Information Model (AIM)
Asset information requirements (AIR)
BIM Execution Plan (BEP)
Exchange Information Requirements (EIR)
Facility Management (FM)
Software, Tools & Services
The following services support the Use Case «Cleaning of glass facades»
LIBAL®
The LIBAL® Digital Twin is an intuitive product for managing your tasks. The Digital Twin serves as a checkbook for your investment. The core of our intelligent solutions is a common data environment (CDE), which improves models and prepares them for operation. This structures and automates the information management between all project participants, making it much easier.
LIBAL website: https://www.libal-tech.ch
 
Video: LIBAL - Cleaning glass facades 
LIBAL link: LIBAL 
Login/E-mail: ucm(at)buildingsmart.ch
Password: swissbau2022
Copyright
All dokuments are licensed as a Creative Commons Attribution-NonCommercial-ShareAlike 4.0 International License
(Attribution-Non-Commercial-ShareAlike 4.0). Further information can be found at creativecommons

Handling
The documents reflect the current best practice and do not claim to be complete. They should not to be understood in the sense of a generally valid recommendation or guideline from a legal point of view. The documents are intended to support appointing and appointed parties in the application of the BIM method. The documents must be adapted to the specific project requirements in each case. The examples listed do not claim to be complete. Its information is based on findings from practical experience and is accordingly to be understood as best practice and not universally applicable. Since we are in a phase in which definitions are only emerging, the publisher cannot guarantee the correctness of individual contents.
Document Type : Use Case
GUID : 9C90B893-CCAB-488E-A921-D238EAE93E2C
Identifier : CHE.53315.01.06
Life Cycle Stage : ISO 22263
Revision : V1.1.1.0
Project Status : Draft
Maturity level : Example
Use Case: Approved
Processes: Approved
ER: Approved
Published on: Mar 17, 2022
Last change: May 12, 2022
Publisher: buildingSMART Switzerland
Author: Bühler, Joel | Schwarz, Daniel
Not registered yet?

Register for the Use Case Management Service for free to access the entire document.

Registered users can use the download area and the comment functions.