Verlichtingsanalyse (LA)
Managementsamenvatting
- Een proces waarbij intelligente modelleringssoftware het architectonisch BIM gebruikt om op basis van ontwerpspecificaties de meest effectieve engineeringmethode te bepalen.
- De ontwikkeling van deze informatie vormt de basis voor de validatie van verlichtingsniveaus en naleving van de code.
- Deze analysetools en prestatiesimulaties kunnen het ontwerp van de faciliteit aanzienlijk verbeteren.
De verlichtingsanalyse wordt in verschillende fasen van een bouwproject gemaakt. Als de DNR-STB 2014 wordt aangehouden is dit in de SO, DO, TO en UO Fase.
Bij iedere opeenvolgende analyse worden er minder aannames en meer gedetailleerde berekeningen gemaakt, omdat er meer informatie ter beschikking is. 
Onderstaand een afbeelding van een verlichtingsberekening van een keuken, oftewel een typical.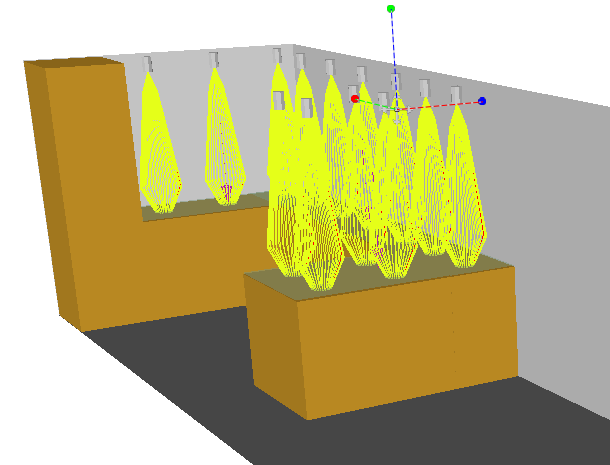 Use Case Definitie
Wat is een verlichtingsanalyse?
Het vertalen van de verlichtingseisen naar een verlichtingsontwerp met een onderbouwd aantal, het type armaturen en de locatie in de ruimte rekening houdend met de overige eigenschappen van het ontwerp. 
Waarom deze fasen?
Het is van belang vaak genoeg een analyse te maken zodat alle informatie verzameld kan worden en tijdig gestuurd kan worden met juiste informatie in het project, zodat faalkosten kunnen worden voorkomen, maar niet vaker dan nodig, omdat ook dat extra kosten met zich meebrengt. Waarom de SO, DO, TO en UO Fase worden gehanteerd door SPIE Building Solutions wordt hieronder uitgelegd. 
Doelstellingen
Het maken van een juiste verlichtingsanalyse met betrouwbare informatie afhankelijk van de fase. 
Document Type : Information Delivery Manual
GUID : E09CBCA7-35B7-4B69-BDFC-3A4C9EE75F01
Identifier : LA1
Life Cycle Stage : STB2014
Revision : 1.0
Project Status : Proposal
Maturity level : Proven
Use Case: Draft
Processes: Draft
ER: Draft
Published on: Jan 18, 2023
Last change: Jan 10, 2023
Publisher: buildingSMART Benelux
Author:
Not registered yet?

Register for the Use Case Management Service for free to access the entire document.

Registered users can use the download area and the comment functions.