Circulation Analysis - International
Management Summary
To plan sustainable buildings with respect to long term maintenance and future development, crowd simulation tools can be used in order to check buildings in the early planning phase for their designated usage. These simulations are used to check whether performance indicators are fulfilled and the building is compliant.
To perform such analysis automatically, the model has to provide specific information on top of geometric information. For that, the current IFC model has to be extended.
The key actors on this project are the Owner, the Simulation Expert as well as the Planner.
The aim of this project to perform circulation analysis throughout the design phase in a repetitive manner to enhance the overall planning process.
Use Case Definition
Circulation analysis is relevant during the planning and lifecycle process of buildings. For a variety of different building classes such as airports, high rise buildings, or railway stations, the functionality of such buildings must be assured and laid out sustainably for long term maintenance and future development. Conducting occupancy movement analysis thus offers a deep insight into the buildings' functionality and allows quick and affordable digital prototyping, avoiding costly planning errors.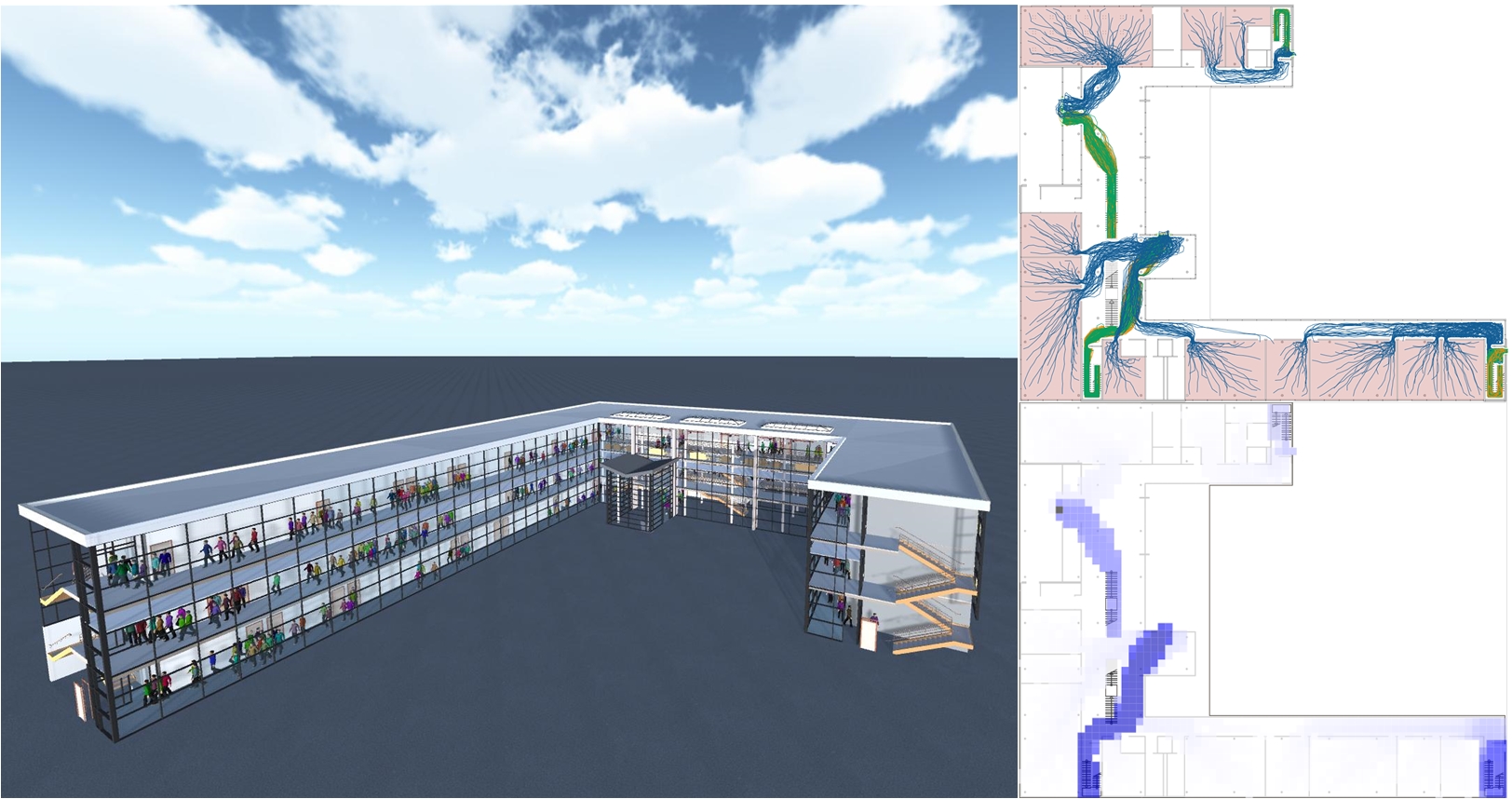 Aim and scope
The aim of this project is to develop an IDM to see what information is needed for crowd simulations. This information will be added to the IFC Model in order to enable automatic extraction of the relevant data and simulation.
Objectives
Identify the actors and stages involved in the design phase.

Identify the workflow for circulation analysis.

Identify data exchange requirements to carry out circulation analysis using modeling tools.

Identify current IFC support for data exchange and limitations, together with areas for improvement.
Abbreviation
OMA - Occupant Movement Analysis
Copyright
All documents are licensed as a Creative Commons Attribution-NonCommercial-ShareAlike 4.0 International License
(Attribution-Non-Commercial-ShareAlike 4.0). Further information can be found at

Handling
The documents reflect the current best practice and do not claim to be complete. They should not to be understood in the sense of a generally valid recommendation or guideline from a legal point of view. The documents are intended to support appointing and appointed parties in the application of the BIM method. The documents must be adapted to the specific project requirements in each case. The examples listed do not claim to be complete. Its information is based on findings from practical experience and is accordingly to be understood as best practice and not universally applicable. Since we are in a phase in which definitions are only emerging, the publisher cannot guarantee the correctness of individual contents.
Document Type : Use Case
GUID : 2143B7DE-F857-48D7-A15B-431C1D9925AB
Identifier : -
Life Cycle Stage : RIBA - plan of work
Revision : V1.0.0.0
Project Status : Approved
Maturity level : Example
Use Case: Approved
Processes: Approved
ER: Approved
Published on: Mar 1, 2022
Last change: Mar 1, 2022
Publisher: buildingSMART International
Author: Abualdenien, Jimmy | Kneidl, Angelika | Lawrence, Peter | Lehtoviita, Timo | Siddiqui, Asim | Thompson, Peter
Not registered yet?

Register for the Use Case Management Service for free to access the entire document.

Registered users can use the download area and the comment functions.